Checkout Pemesanan
Detail Tour
14D/13N Explore Eastern To Southern Europe
3. EUROPE - Explore from Frankfurt
TOUR-14D13N

Berangkat
Tamu
Orang
Harga
Rp /

pax
Total Rp
14D/13N Explore Eastern To Southern Europe
Wisata di Europe mengunjungi Germany, Ceko, Slovakia, Hungary, Austria Switzerland, Italy, dan France, dengan mengunjungi objek wisata yang menarik dan bersejarah bersama keluarga, teman maupun pasangan menjadikan liburan lebih indah dan menyenangkan.
Tour Detail
| | | |
| --- | --- | --- |
| Duration | : | 13 malam |
| Minimum Pax | : | 2 orang |
| Category | : | SIC |
ITINERARIES
Day 1 (Sun)
Arrival Frankfurt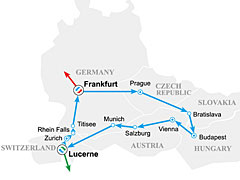 Meet at Airport Frankfurt, Germany. Transfer to Hotel, check in hotel and free time.Note : Tour manager will contact you and advise of the departure time from the hotel to join tour on the 2nd day.
Day 2 (Mon)
Frankfurt - Prague (B)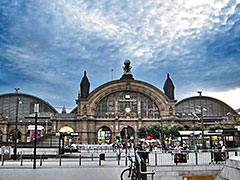 After boarding the luxury coach in Frankfurt, sit back and enjoy a scenic ride through some classic German countryside en route to the Czech Republic. Prague, one of Europe's most ornate cities, is your first destination. You will arrive in the evening, ready to discover this charming capital city with its fairytale architecture, the following morning. Hotel: 3* in or outside Prague City.
Day 3 (Tue)
Prague - Bratislava (B)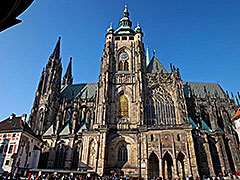 Your Prague adventure begins with a spectacular walk along the Royal Route, following the traditional coronation path of the kings and queens of old Bohemia. You'll start from the top of Castle Hill in the Hradcany district, famous for its views over the red-roofed old city, and then tour Prague Castle. The castle has been the historic seat of Bohemia royalty since the 9th century, as well as home to the nation's presidents in recent times. Your exploration then heads off around the imposing gothic St. Vitus Cathedral and the Old Royal Palace, and along Golden Lane, an ancient thoroughfare lined with some wonderful traditional buildings.

Later you will stroll across the iconic Charles Bridge, which arches gracefully over the Vltava, and on through the winding alleys to the Old Town Square, where you can see the City Hall and one of Prague's most well-known sights, the Astronomical Clock.

After lunch in the square, you'll make the scenic transfer from Prague to the Slovakian capital, Bratislava – home to another glorious Old Town. Here you'll pass through the heart of the city by coach, with views of the magnificent Bratislava Castle and St. Martin´s Cathedral. Hotel: 3* in or outside Bratislava.
Day 4 (Wed)
Bratislava - Budapest (B)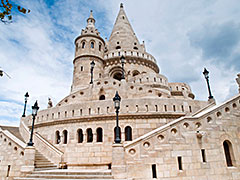 Wednesday sees you arrive in Hungary, the fourth country of the tour. Its capital, Budapest, is known as the Pearl of the Danube, and is essentially two different cities joined together: Buda on the west of the river, Pest on the east, each with its own distinct characteristics.

One of the best ways of seeing this unique location is by taking a river cruise, which many people choose to do. After a morning of activity, you'll relax over lunch at Buda Palace, and then have a chance to look at the exhibitions in the Budapest History Museum and Hungarian National Gallery, or do a spot of souvenir shopping.

Next you'll explore both sides of the city on a cultural and historic tour. Highlights on the Buda side of the Danube include the towered terrace of Fisherman's Bastion, the medieval Matthias Church and a walk up to the summit of Gellért Hill for panoramic views. While over in Pest the sights include the expansive Heroes' Square and Hungary's dramatic riverside Parliament Building. In the evening, you can choose to round off an eventful day with an optional dinner in the heart of Budapest, where you can sample traditional dishes such as goose liver, goulash, duck leg and local wine, accompanied by Hungarian folkdance and music. Hotel: 3* in or outside Budapest.
Day 5 (Thu)
Budapest - Vienna (B)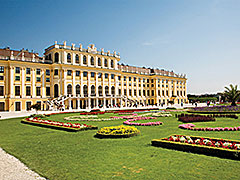 Today starts with a short journey to another of Europe's grand capitals, Vienna, where you'll get to explore the Austrian city's resplendent palaces, striking churches and prestigious art museums.

Your Vienna adventure begins at one of the city's most popular attractions, Schönbrunn Palace, the Rococo-style summer residence of the Habsburg dynasty, rulers of Europe and the Church for many decades. After lunch in this refined setting, you will take a driving tour past many grand, famous buildings, including the City Hall, the Austrian Parliament, Hofburg Palace and Heroes' Square.

You'll drive past the statue of one of Austria's most famous sons, Wolfgang Amadeus Mozart, and also have some shopping time, before adding the Wiener Staatsoper (opera house) to your checklist of key Vienna buildings. Later, opt for dinner in the heart of the city or visit St. Stephen's Cathedral, before taking a stroll in Stadtpark, which is known for its range of sculptures, including the famous gilded bronze statue of Johann Strauss II.

In the evening, we recommend the option of attending a Viennese waltz concert, which will allow you the unforgettable experience of hearing the music of Mozart and Strauss in the place where it was composed. Hotel: 3* in or outside Vienna.
Day 6 (Fri)
Vienna - Salzburg - Munich (B)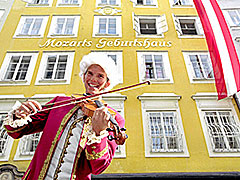 From Vienna it's on to another Austrian gem, Salzburg. The city's beautiful historic centre, listed by UNESCO as a World Heritage Site, is characterized by numerous baroque buildings, and is one of the most picturesque places in Europe. Salzburg is also famous for its musical heritage, being both the birthplace of Mozart, and also connected with hit musical The Sound of Music. You'll get the chance to see from the outside the house where Mozart was born, explore the city further at your leisure and also have lunch in Salzburg, before heading across the German border to Munich in the afternoon. Hotel: 3* in or outside Munich.
Day 7 (Sat)
Munich - Mt. Titlis - Lucerne (B)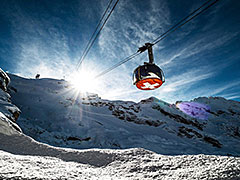 You'll leave the big cities behind on Saturday morning and head for one of the world's most famous mountain ranges – the Swiss Alps. The first destination is Engelberg the stunning Swiss resort.  From here you can opt to board a cable car that takes you to the summit of the impressive Mount Titlis. To reach to the top of the permanently snow-covered Mt. Titlis is by a combination of gondolas over 3 stages. You'll ascend the last stage by the world's first revolving gondola the Titlis Rotair, that delivers spectacular views of the valleys, glaciers, lakes and forests below, and 360˚ vistas of the surrounding mountains.  At the summit the sun terrace is the perfect place to pause and appreciate the breathtaking panoramas.  There's a 150-metre ice cavern through the core of a glacier to explore at the top.  Other highlights include walking across Europe's highest suspension bridge for more phenomenal views from Mt. Titlis. You'll come down from the hills to the lakeside for your next stop. Lucerne is a picturesque city of bridges and towers located in what many people believe to be the "true" Switzerland – picture-postcard mountains, lakes, cowbells, Alpine villages and meadows full of edelweiss flowers. Here you will have time to wander through the charming streets, and see the famous Lion Monument, which Mark Twain once described as "the most mournful and moving piece of stone in the world". The Bus will stop to meeting point (Lucerne Central Station) and you will change bus for transfer to Lucerne (Tour Guide will tell you). Hotel: 3* in or outside Lucerne.
Day 8 (Sun)
Lucerne - Milan - Venice (B)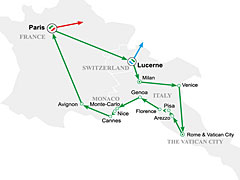 In the morning you'll get to see Lucerne's famous landmarks and take some pictures before you are heading south from Lucerne through spectacular Switzerland and into northern Italy. Where your first stop will be Milan, fashion capital of the world. Your orientation tour will introduce you to the city's iconic sights, including the vast Gothic cathedral (Duomo) and La Scala opera house.  You'll also see the planet's oldest shopping mall, the 19th-century Galleria Vittorio Emanuele II, where you can wander among the boutique shops and take lunch in one of the refined cafes. After some free time, you'll head to another vintage Italian city: Venice. Hotel: 3* outside Venice Island.
Day 9 (Mon)
Venice - Rome (B)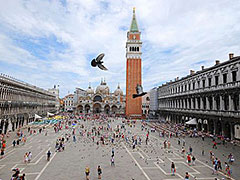 Spend the morning in the company of a knowledgeable local guide as you explore Venice, the most magical of cities. Begin with a waterbus ride to San Marco Island, a memorable crossing of the lagoon that gives you a real taste of the city's charm as you approach the dreamy spires and distinctive waterside buildings. Once on the island you'll be led around some of Venice's best-known locations, beginning in the Piazzo with the Basilica di San Marco, a stunning piece of Byzantine architecture. You'll also see the legendary Bridge of Sighs, which appears on many a postcard or picture of Venice and connects the old prison to the interrogation rooms in the Doge's Palace. Afterwards you'll have a chance to see some traditional Venetian craftwork at close quarters with a demonstration by Murano glassblowers; their exquisite creations make excellent souvenirs.  Of course, the ultimate Venice activity is to ride through the warren of waterways on a gondola, and for most people this optional excursion is a must. Step aboard, relax and enjoy this once-in-a-lifetime experience. If you're hungry after an action-packed morning you can choose to fill up with an optional delicious homemade Italian spaghetti meal, before enjoying more free time in this sublime city. Transfer to Rome in the afternoon. Hotel: 3* in or outside Rome.
Day 10 (Tue)
Rome - Vatican - Arrezzo (B)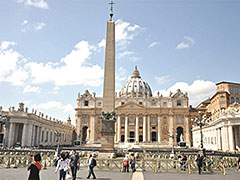 Your day in Rome starts with a visit to the smallest country in the world, The Vatican City, which lies at the heart of the Italian capital. Here you'll marvel at St Peter's Basilica, home to Pope Francis and arguably the most significant site in Christianity.The exquisitely beautiful Basilica has been present here for almost 1,700 years and contains a bewildering collection of paintings, frescoes and design crafted by some of humanity's most famous artists, which you can explore.

Next you'll see the famous Trevi Fountain, the lavish Baroque showpiece where people flock to throw coins into the water – an action which is said to ensure that you'll return to the city again one day. After lunch, take a step even further back in time as you visit Italy's unrivalled Roman relics. An optional guided tour of the Coliseum, built in AD 72, is highly recommended. History comes to life as you imagine yourself witnessing gladiatorial combat inside the spectacular amphitheatre, or alternatively you can walk at your leisure around the outside to admire the facade of this ancient wonder. After the Coliseum, get up close to the nearby Arch of Constantine, which dates back to the fourth century AD, then spend some further free time enjoying Rome, sampling the rich and creamy delights of "gelato" Italian ice cream. Followed by some free time you'll visit Basilique Santa Maria degli Angeli e dei Martiri near Piazza della Repubblica or going to Mitsukoshi Department store to get some souvenirs before transferring to Florence in the late evening. Hotel: 3* in or outside Arrezzo.
Day 11 (Wed)
Arrezzo - Pisa - Genoa (B)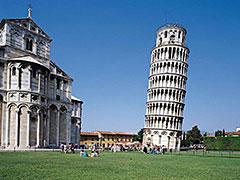 Your voyage of cultural discovery continues as you get to know Florence, the birthplace of the Italian Renaissance and home to some fabulous architecture and fine art. Begin the day by taking in a wonderful panoramic overview of the city from Piazzale Michelangelo, which boasts glorious vistas over the red roofs, Arno river and ancient city walls out towards the surrounding countryside.

Next you can see a demonstration of the traditional craft of leather working at close quarters in a local workshop, and you'll also have the opportunity to purchase some of the high-quality leather items for which the city is famous. From here you'll enjoy a guided walk around Florence's many highlights, including the Ponte Vecchio over the Arno, the Piazza del Duomo and Campanile Tower. You'll pass the Uffizi Gallery, which contains one of the most notable art collections in Florence. You'll have free time to see the city further, to shop or to watch the world go by from a streetside cafe, before travelling on to your next destination, Pisa. Here you are free to wander, but be sure to have your camera ready to get a shot of the iconic Leaning Tower, the famous bell tower in the 'Square of Miracles', which also contains the centuries-old cathedral and baptistry. Hotel: 3* in or outside Genoa.
Day 12 (Thu)
Genoa - Monaco - Nice - Cannes - Avignon (B)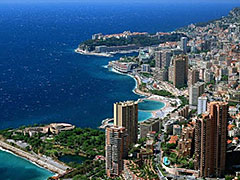 A breathtaking drive along one of Europe's most famous stretches of Mediterranean coastline awaits as you say arrivederci to Italy and head for Monaco. This small principality, enclaved in France, contains some big attractions and high rollers: look out for the famous Monte-Carlo casino as you cruise into town. A walking sightseeing tour here takes you to the grand Prince's Palace, where you'll have some free time to soak up the refined atmosphere, before continuing on to view the 1920s Courthouse, the cliffside Oceanographic Museum, and the cathedral, where Grace Kelly is buried. We then travel a little further to visit the famous Fragonard Perfume Factory. Here you'll be taken on a fascinating guided tour around this working factory. Next it's Nice, where you'll stop for lunch to sample some excellent local cuisine and warm-hearted hospitality. Your journey continues to Cannes, where many a movie star has enjoyed the sweet smell of success. Be sure to take the opportunity to snap some photos of the Palais des Festival, home to the city's annual international film festival, before transferring to Avignon Nord. Hotel: 3* in or outside Avignon.
Day 13 (Fri)
Avignon - Paris (B)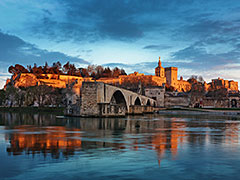 Take a well-earned rest today as you sit back and enjoy great views of the changing rural charms of the French countryside on the journey north to Paris, where the Green Line tour finishes. Hotel: 3* in or outside Paris.
Day 14 (Sat)
Departure Paris (B)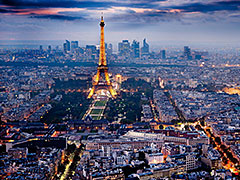 Breakfast at Hotel. Day free at leisure until departure transfer to Airport.
INCLUSIONS
Accommodation in a comfortable three-star hotel, twin room with private facilities
Daily continental breakfast
Airport transfers
The services of an experienced tour manager
Sightseeing and orientation tours included in the itinerary
Daily transportation on modern air-conditioned coaches
Professional coach driver
EXCLUSIONS
Flights or other travel costs, visas and travel insurance
Admission tickets all attractions
Any additional excursions activities, tours or shows not included in the itinerary
Meals (including tips) and drinks not included in the itinerary
Tips Guide & Driver EUR 7 per person per day
Personal expenses (laundry, internet, phone calls etc.)
City entrance fees + taxes (subject to change):

Vienna : EUR 5/pax
Prague : EUR 5/pax
Venice City : EUR 15/pax
Florence City : EUR 10/pax
Rome City : EUR 10/pax
Pisa City : EUR 5/pax
Monaco City : EUR 5/pax
Paris City entrance + Overnight city tax EUR 15/person/day
TERMS AND CONDITIONS
Tamu diwajibkan sudah memiliki Visa Schengen sebelum mengikuti paket FIT Eropa kami.
Informasi: Selama periode Christmas dan New Year Vatican Museum dan Colosseum tutup
Kami TIDAK DAPAT memberikan konfirmasi hotel maupun surat - surat keterangan lainnya yang dibutuhkan tamu sebagai dokumen pelengkap untuk proses pengajuan visa.
Final Confirmation dapat kami berikan 1 - 2 hari sebelum tanggal keberangkatan.
Dalam final confirmation tsb, tour operator hanya dapat memberikan konfirmasi hotel untuk malam pertama tour,untuk informasi mengenai hotel dimalam berikutnya selama tour akan diinformasikan langsung kepada tamu pada saat tour berjalan.
Harga untuk per orang dan hanya termasuk perjalanan di darat, tidak termasuk tiket pesawat, admission/tiket biaya masuk semua wisata, biaya cruise, makanan dan minuman, VISA SCHENGEN, tips, city entrance fee & taxes, dan pengeluaran pribadi.
Harga di atas, tidak termasuk ENGLISH CHANNEL FERRY (Tunnel) Fees dan Termnal Tax = €20/orang (Subject to change)
TIPPING GUIDE & SUPIR = € 7/orang/hari (dibayarkan saat tour berjalan)
Harga, jadwal perjalanan, dan hotel dapat berubah sewaktu-waktu tanpa pemberitahuan sebelummya. Biaya tambahan seperti optional, tipping, city entrance fees&taxes langsung.
Kebijakan TRANSFER:
Pengantaran hanya tersedia selama 07.00-22.00; diluar jam tersebut tidak ada pengantaran. Kami tidak bertanggung jawab apabila tamu keluar imigrasi setelah 22.00 malam, maka tamu akan ke hotel dengan pengaturan dan biaya masing-masing.
Supir akan menunggu max.60 menit dari waktu yang telah ditentukan untuk penjemputan, apabila tamu 'NO SHOW' makan 'NO REFUND'
Kebijakan Kamar :
Anak 2-11 tahun yang sharing dengan 2 orang dewasa dalam 1 kamar = TIDAK tersedia EXTRA BED
Untuk keberangkatan 3 orang dewasa apabila hotel tidak bisa menyediakan Triple Room, maka orang ketiga harus membayar single sup untuk menggunakan 1 kamar sendiri.
Liabilities:
We are not liable for any delay or expense of any kind
We will accept no responsibilities for losses or additional expense due to accident, delay, weather, strike or cause beyond its control
Passengers must have a valid passport. Your passport must remain valid for at least 6 months from the arrival date. We will not be held responsible for any expenses if passenger is refused entry by any country
We are not liable if passenger decide to withdraw during the tour
We reserves the right to alter or curtail the itinerary substitute hotels and/or conveyances as it is deemed necessary
We will not accept liability for acts of violence for any single sharing a room with others
Any unused portion of the tour is non-refundable, including meals listed in the itinerary if for any reason you cannot continue with the tour after departure
We also reserves the right to request any individual to withdraw from the tour if deemed his/her act of conduct is detrimental to or incompatible with the interest, harmony and welfare of other passengers and the tour as a whole. We shall be under no further liability thereafter to any such person
Responsibilities:
We acts only as an agent and/or intermediary for independent suppliers. As a result it retains other contractors to provide transportation, accommodation and other related travel services. We accepts no responsibility for any such losses or any additional expenses or and distress due to delays, sickness, weather, strikes or any other causes
Passengers shall be regarded as carrying his/her own risk with respect to loss or injury to person or property. We are not liable for any loss, injury, accident, damage, delay or expense which may arise during the tour
Passenger accepts full responsibility for losses and expenses due to delay, sickness, weather, strikes, wars, quarantine and changes in itinerary
We will not be held responsible if passenger carries any unlawful items or irregularities, any losses and expenses are the responsibility of the passenger
Our tour guide and driver do not accept liability for lost or stolen personal property during the tour
Kontak Kami
Apabila ada yang ditanyakan, silahkan hubungi kami melalui kontak di bawah ini.