Checkout Pemesanan
Detail Tour
16D/15N Explore Western To Eastern Europe In & Out Frankfurt
3. EUROPE - Explore from Frankfurt
TOUR-16D15N

Berangkat
Tamu
Orang
Harga
Rp /

pax
Total Rp
16D/15N Explore Western To Eastern Europe In & Out Frankfurt
Berlibur ke eropa kurang lengkap jika Anda tidak mengunjungi beberapa negara seperti Germany, Netherland, Belgium, France, Czech, Slovakia, Hungary, Austria dan Switzerland yang akan membuat liburan Anda lebih berwarna
Tour Detail
| | | |
| --- | --- | --- |
| Duration | : | 15 malam |
| Minimum Pax | : | 2 orang |
| Category | : | SIC |
ITINERARIES
Day 1 (Sun)
Arrival Frankfurt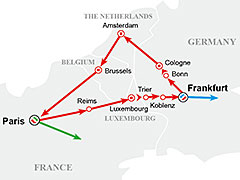 Meet at Airport Frankfurt, Germany. Transfer to Hotel, check in hotel and free time.Note : Tour manager will contact you and advise of the departure time from the hotel to join tour on the 2nd day.
Day 2 (Mon)
Frankfurt – Bonn – Cologne – Amsterdam (B)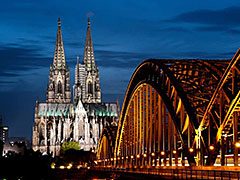 Today we will drive ahead to Bonn, the capital of "West Germany" from the year 1949 to 1990, enjoy our orientation to the historic Town Hall, Ludwig Van Beethoven Haus. After drive takes us to Cologne, visit the Cologne Cathedral, the most famous heritage in this city, and may be the shopping area will be another attraction to you? After lunch, we will proceed to Amsterdam. Overnight in Amsterdam or nearby city.
Day 3 (Tue)
Amsterdam – Zaanse Schans – Amsterdam (B)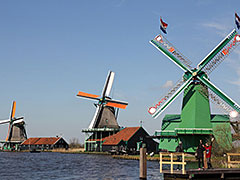 Today we enjoy our morning sightseeing tour to a countryside excursion to the village of Zaanse Schans, where we visit the Wooden Shoes Factory, Cheese Farm and stop for photos at the typical windmills which was one of the most important and historic architecture since The Netherlands started to established their country. After drive takes us back to the city centre, to visit the famous diamond factory which has been in a high technique since the 16th century. Then it's the time for you to leisure or perhaps take a Canal Cruise will be a good idea to spend your evening before dinner.Overnight in Amsterdam or nearby city.(Visit Keukenhof from mid March to mid May, info:www.keukenhof.com)
Day 4 (Wed)
Amsterdam – Brussels – Paris (B)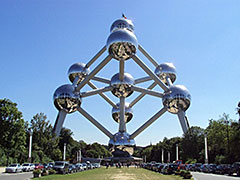 Our day begins with a drive to Brussels, the Belgian capital, before we arrive, stop for a photo at the Atomium, monument of the first World Fair after the WW II, took place in Brussels in 1958. Then drive to the city centre, enjoy an orientation at the beautiful Grand' Place and the Mannenken Pis. Later, we drive to the most splendid city – Paris. Overnight in Paris or nearby.
Day 5 (Thu)
Paris – Versailles – Paris (B)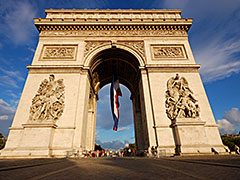 Today we will enjoy the sightsee tour include the Arc de Triomphe, drive along the Champs Elysees to the Place de la Concorde, where the royal and many aristocracy members were guillotined there during the Revolution. Then drive up to the Hotel des Invalides, where the Tombean de Napoleon 1 er is also located. Later, we will photo stop at the Eiffel Tower, and a relaxing scenic Seine Cruise featuring such highlights as Notre Dame Cathedral and Pont Alexandre III . After, drive takes us to visit the glorious Palace of Versailles, built as a hunting lodge by Louis XIII, then developed to majority and taking on full royal power by Louis XIV, it remained the residence of the royal family since 1722 until the Revolution of 1789. Then transfer to hotel for overnight after dinner. Overnight in Paris or nearby (if clients interested in visiting the splendid Paris after dinner, our tour guide would be pleased to arrange it for you)
Day 6 (Fri)
Paris (B)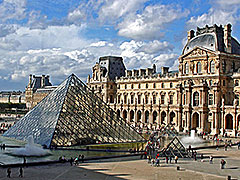 Our morning visit is one of the world's greatest art museum – The Louvre, enjoy the sight of Venus de Milo, Winged Victory of Samothrace (also called Nike of Samothrace) and the most famous work by Leonardo da Vinci – Mona Lisa. After lunch the tour leader will take the group to the city center group free at leisure and shopping near Opera. After dinner, meet with tour leader and coach and transfer to Hotel. Overnight in Paris or nearby.
Day 7 (Sat)
Paris – Reims – Luxembourg (B)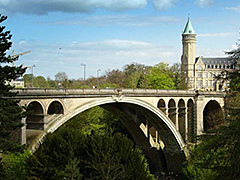 This morning we will take our journey along the beautiful countryside of France to Reims, the capital of Champagne, and old province of France made word famous by its Champagne sparkling wine. Reims played a very important role in French history, as it was the place where the kings of France were crowned since the 11th century. Thus the Cathedral of Reims became the most important heritage here. Later, we will drive ahead to Luxembourg, the only remaining Grand Duchy. On our arrival, enjoy the orientation at the Place de Constitution, the canyon in the city and Pont Adophe. Overnight in Luxembourg or nearby city.
Day 8 (Sun)
Luxembourg – Trier – Koblenz – Frankfurt (B)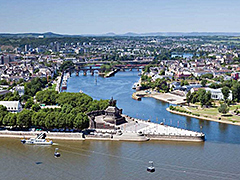 Today our first visit is Trier, the German's oldest city has been named as "Second Rome" since Constantine the great has administrated in here for 10 years. The best know known from our orientation is the Porta Nigra, the best-preserved roman city gate north of Alps, also the birthplace of the influential philosopher Karl Marx, the Karl Mars Haus is situated in the house where he was born. After we will drive to Koblenz, the confluence of the Rhine and the Mosel . We will have lunch time in this famous scenic place, and why not take the cruise along the Rhine, to spend your precious moment with your family and friends? After drive will takes us to Frankfurt am with stop over in Rudesheim. On our arrival in Frankfurt, enjoy our orientation Romer platz.
Day 9 (Mon)
Frankfurt - Prague (B)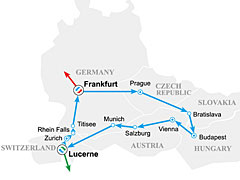 Today our first visit is Trier, the German's oldest city has been named as "Second Rome" since Constantine the great has administrated in here for 10 years. The best know known from our orientation is the Porta Nigra, the best-preserved roman city gate north of Alps, also the birthplace of the influential philosopher Karl Marx, the Karl Mars Haus is situated in the house where he was born. After we will drive to Koblenz, the confluence of the Rhine and the Mosel . We will have lunch time in this famous scenic place, and why not take the cruise along the Rhine, to spend your precious moment with your family and friends? After drive will takes us to Frankfurt am with stop over in Rudesheim. On our arrival in Frankfurt, enjoy our orientation Romer platz.
Day 10 (Tue)
Prague - Bratislava (B)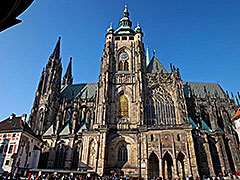 Your Prague adventure begins with a spectacular walk along the Royal Route, following the traditional coronation path of the kings and queens of old Bohemia. You'll start from the top of Castle Hill in the Hradcany district, famous for its views over the red-roofed old city, and then tour Prague Castle. The castle has been the historic seat of Bohemia royalty since the 9th century, as well as home to the nation's presidents in recent times. Your exploration then heads off around the imposing gothic St. Vitus Cathedral and the Old Royal Palace, and along Golden Lane, an ancient thoroughfare lined with some wonderful traditional buildings.

Later you will stroll across the iconic Charles Bridge, which arches gracefully over the Vltava, and on through the winding alleys to the Old Town Square, where you can see the City Hall and one of Prague's most well-known sights, the Astronomical Clock.

After lunch in the square, you'll make the scenic transfer from Prague to the Slovakian capital, Bratislava – home to another glorious Old Town. Here you'll pass through the heart of the city by coach, with views of the magnificent Bratislava Castle and St. Martin´s Cathedral. Hotel: 3* in or outside Bratislava.
Day 11 (Wed)
Bratislava - Budapest (B)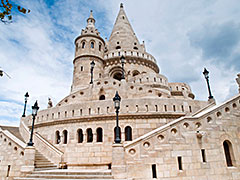 Wednesday sees you arrive in Hungary, the fourth country of the tour. Its capital, Budapest, is known as the Pearl of the Danube, and is essentially two different cities joined together: Buda on the west of the river, Pest on the east, each with its own distinct characteristics.

One of the best ways of seeing this unique location is by taking a river cruise, which many people choose to do. After a morning of activity, you'll relax over lunch at Buda Palace, and then have a chance to look at the exhibitions in the Budapest History Museum and Hungarian National Gallery, or do a spot of souvenir shopping.

Next you'll explore both sides of the city on a cultural and historic tour. Highlights on the Buda side of the Danube include the towered terrace of Fisherman's Bastion, the medieval Matthias Church and a walk up to the summit of Gellért Hill for panoramic views. While over in Pest the sights include the expansive Heroes' Square and Hungary's dramatic riverside Parliament Building. In the evening, you can choose to round off an eventful day with an optional dinner in the heart of Budapest, where you can sample traditional dishes such as goose liver, goulash, duck leg and local wine, accompanied by Hungarian folkdance and music. Hotel: 3* in or outside Budapest
Day 12 (Thu)
Budapest - Vienna (B)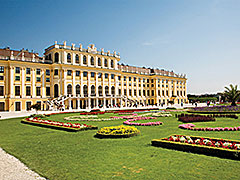 Today starts with a short journey to another of Europe's grand capitals, Vienna, where you'll get to explore the Austrian city's resplendent palaces, striking churches and prestigious art museums.

Your Vienna adventure begins at one of the city's most popular attractions, Schönbrunn Palace, the Rococo-style summer residence of the Habsburg dynasty, rulers of Europe and the Church for many decades. After lunch in this refined setting, you will take a driving tour past many grand, famous buildings, including the City Hall, the Austrian Parliament, Hofburg Palace and Heroes' Square.

You'll drive past the statue of one of Austria's most famous sons, Wolfgang Amadeus Mozart, and also have some shopping time, before adding the Wiener Staatsoper (opera house) to your checklist of key Vienna buildings. Later, opt for dinner in the heart of the city or visit St. Stephen's Cathedral, before taking a stroll in Stadtpark, which is known for its range of sculptures, including the famous gilded bronze statue of Johann Strauss II.

In the evening, we recommend the option of attending a Viennese waltz concert, which will allow you the unforgettable experience of hearing the music of Mozart and Strauss in the place where it was composed. Hotel: 3* in or outside Vienna.
Day 13 (Fri)
Vienna - Salzburg - Munich (B)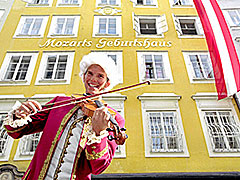 From Vienna it's on to another Austrian gem, Salzburg. The city's beautiful historic centre, listed by UNESCO as a World Heritage Site, is characterized by numerous baroque buildings, and is one of the most picturesque places in Europe. Salzburg is also famous for its musical heritage, being both the birthplace of Mozart, and also connected with hit musical The Sound of Music. You'll get the chance to see from the outside the house where Mozart was born, explore the city further at your leisure and also have lunch in Salzburg, before heading across the German border to Munich in the afternoon. Hotel: 3* in or outside Munich
Day 14 (Sat)
Munich - Mt Titlis - Lucerne - Zurich (B)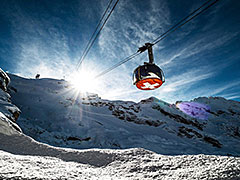 You'll leave the big cities behind on Saturday morning and head for one of the world's most famous mountain ranges – the Swiss Alps. The first destination is Engelberg the stunning Swiss resort.  From here you can opt to board a cable car that takes you to the summit of the impressive Mount Titlis. To reach to the top of the permanently snow-covered Mt. Titlis is by a combination of gondolas over 3 stages.

You'll ascend the last stage by the world's first revolving gondola the Titlis Rotair, that delivers spectacular views of the valleys, glaciers, lakes and forests below, and 360˚ vistas of the surrounding mountains.  At the summit the sun terrace is the perfect place to pause and appreciate the breathtaking panoramas.  There's a 150-metre ice cavern through the core of a glacier to explore at the top.  Other highlights include walking across Europe's highest suspension bridge for more phenomenal views from Mt. Titlis.

You'll come down from the hills to the lakeside for your next stop. Lucerne is a picturesque city of bridges and towers located in what many people believe to be the "true" Switzerland – picture-postcard mountains, lakes, cowbells, Alpine villages and meadows full of edelweiss flowers. Here you will have time to wander through the charming streets, and see the famous Lion Monument, which Mark Twain once described as "the most mournful and moving piece of stone in the world". This is a great place to get souvenirs like Swiss watches and fine chocolates, before travelling to the overnight stop of Zurich. Hotel: 3* in or outside Zurich
Day 15 (Sun)
Zurich – Rhein Falls – Titisee - Frankfurt (B)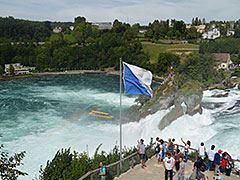 The final day of the tour begins in Zurich, a city with a reputation as a leading global financial centre. There is chance for a picture stop at the impressive Lake Zurich, before moving on to Rhine Falls, Europe's biggest waterfall.

Next you'll cross back into Germany and the Black Forest, the ancient fir-covered mountain range which is famous for its creepy folklore and mythical tales. Here you will see the beautiful lake Titisee, where you can stop at one of the many lakeside cafés to enjoy some of the region's best Black Forest cherry gateaux. Cuckoo clocks are made in Titisee, making this the ideal place to pick up a few souvenirs from the local shops, and you'll also get to see a demonstration of how these magical mechanisms work.

Finally, you'll head back to Frankfurt, where for some members of the group it will be time to say goodbye to new-found friends, while others will opt to stay another night in this major German city before picking up the Red Line tour the next day. Hotel: 3* in or outside Frankfurt (optional)
Day 16 (Mon)
Departure Frankfurt (B)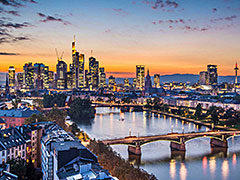 Breakfast at Hotel. Day free at leisure until departure transfer to Airport.
INCLUSIONS
Accommodation in a comfortable three-star hotel, twin room with private facilities
Daily continental breakfast
Airport transfers
The services of an experienced tour manager
Sightseeing and orientation tours included in the itinerary
Daily transportation on modern air-conditioned coaches
Professional coach driver
EXCLUSIONS
Flights or other travel costs, visas and travel insurance
Admission tickets all attractions
Any additional excursions activities, tours or shows not included in the itinerary
Meals (including tips) and drinks not included in the itinerary
Tips Guide & Driver EUR 7 per person per day
Personal expenses (laundry, internet, phone calls etc.)
City entrance fees + taxes (subject to change): Prague City : EUR 5/pax
Paris City entrance + Overnight city tax EUR 15/person/day
TERMS AND CONDITIONS
Tamu diwajibkan sudah memiliki Visa Schengen sebelum mengikuti paket FIT Eropa kami.
Kami TIDAK DAPAT memberikan konfirmasi hotel maupun surat - surat keterangan lainnya yang dibutuhkan tamu sebagai dokumen pelengkap untuk proses pengajuan visa.
Final Confirmation dapat kami berikan 1 - 2 hari sebelum tanggal keberangkatan.
Dalam final confirmation tsb, tour operator hanya dapat memberikan konfirmasi hotel untuk malam pertama tour,untuk informasi mengenai hotel dimalam berikutnya selama tour akan diinformasikan langsung kepada tamu pada saat tour berjalan.
Harga untuk per orang dan hanya termasuk perjalanan di darat, tidak termasuk tiket pesawat, admission/tiket biaya masuk semua wisata, biaya cruise, makanan dan minuman, VISA SCHENGEN, tips, city entrance fee & taxes, dan pengeluaran pribadi.
Harga di atas, tidak termasuk ENGLISH CHANNEL FERRY (Tunnel) Fees dan Termnal Tax = €20/orang (Subject to change)
TIPPING GUIDE & SUPIR = € 7/orang/hari (dibayarkan saat tour berjalan)
Harga, jadwal perjalanan, dan hotel dapat berubah sewaktu-waktu tanpa pemberitahuan sebelummya. Biaya tambahan seperti optional, tipping, city entrance fees&taxes langsung dibayarkan saat mengikuti tour.
Kebijakan TRANSFER:
Pengantaran hanya tersedia selama 07.00-22.00; diluar jam tersebut tidak ada pengantaran. Kami tidak bertanggung jawab apabila tamu keluar imigrasi setelah 22.00 malam, maka tamu akan ke hotel dengan pengaturan dan biaya masing-masing.
Supir akan menunggu max.60 menit dari waktu yang telah ditentukan untuk penjemputan, apabila tamu 'NO SHOW' makan 'NO REFUND'
Kebijakan Kamar :
Anak 2-11 tahun yang sharing dengan 2 orang dewasa dalam 1 kamar = TIDAK tersedia EXTRA BED
Untuk keberangkatan 3 orang dewasa apabila hotel tidak bisa menyediakan Triple Room, maka orang ketiga harus membayar single sup untuk menggunakan 1 kamar sendiri.
Liabilities:
We are not liable for any delay or expense of any kind
We will accept no responsibilities for losses or additional expense due to accident, delay, weather, strike or cause beyond its control
Passengers must have a valid passport. Your passport must remain valid for at least 6 months from the arrival date. We will not be held responsible for any expenses if passenger is refused entry by any country
We are not liable if passenger decide to withdraw during the tour
We reserves the right to alter or curtail the itinerary substitute hotels and/or conveyances as it is deemed necessary
We will not accept liability for acts of violence for any single sharing a room with others
Any unused portion of the tour is non-refundable, including meals listed in the itinerary if for any reason you cannot continue with the tour after departure
We also reserves the right to request any individual to withdraw from the tour if deemed his/her act of conduct is detrimental to or incompatible with the interest, harmony and welfare of other passengers and the tour as a whole. We shall be under no further liability thereafter to any such person
Responsibilities:
We acts only as an agent and/or intermediary for independent suppliers. As a result it retains other contractors to provide transportation, accommodation and other related travel services. We accepts no responsibility for any such losses or any additional expenses or and distress due to delays, sickness, weather, strikes or any other causes
Passengers shall be regarded as carrying his/her own risk with respect to loss or injury to person or property. We are not liable for any loss, injury, accident, damage, delay or expense which may arise during the tour
Passenger accepts full responsibility for losses and expenses due to delay, sickness, weather, strikes, wars, quarantine and changes in itinerary
We will not be held responsible if passenger carries any unlawful items or irregularities, any losses and expenses are the responsibility of the passenger
Our tour guide and driver do not accept liability for lost or stolen personal property during the tour
Kontak Kami
Apabila ada yang ditanyakan, silahkan hubungi kami melalui kontak di bawah ini.